Tropentag 2022:
Can agroecological farming feed the world? Farmers' and academia's views
September 14 - 16, 2022,
organised by
Czech University of Life Sciences, Prague
---
We are seeking student reporters
---
Be a student reporter at the Tropentag 2022
Tropentag, the conference on tropical and subtropical agriculture, natural resource management, and rural development is an annual conference organized by ATSAF e.V. in collaboration with European universities since 1997. The Tropentag 2022 is organised by Czech University of Life Sciences, Czech Republic and expects participants from more than 70 countries.
The theme of Tropentag 2022 is
Can agroecological farming feed the world? Farmers' and academia's views.
If current global trends continue, sustained population growth and demands for richer and better-quality diets will require roughly double current crop production. However, current production practices threaten our planet through loss of habitat, wildlife extinction and modification of water cycling, just to name a few. Agriculture is among the most signifi-cant contributors to global warming, the thirstiest user of water supplies and the major polluter of groundwater. The debates on global food production challenges have become polarised, among both scientists and farmers, widening the gap between the advocates of industrial agriculture and global commerce, and the supporters of local food systems and organic farming. TT22 will review recent research results that address these challenges from various points of view, with different approaches. Discussions in plenary and thematic sessions, guided poster tours, and workshops will provide participants with new ideas to enhance our understanding of the potential capacity of agroecology to maintain and restore soil health, conserve biodiversity and adapt to climate changes and help us face future crises, together with meeting the challenge of feeding global populations.
To increase the outreach of the event, ATSAF is looking for a team of student reporters to give an account of the event.
What does this mean for you?
As a student reporter, you will attend an online workshop before the conference at the end of August/beginning of September 2022 and a 2-day-workshop just before the conference in September 2022 on Journalism and social media. Student reporters will work in an interdisciplinary team of 12 international students who continuously contribute to a multi- author blog with text and visual content from 14 - 16 September 2022 in Prague at the Tropentag. In the blog and other media (e.g., Twitter, Instagram, FB, Flickr) the student reporters will summarize the discussions and report on recent trends, hot topics, or emerging issues during the conference.
On Sept 17th , 2022, a final seminar on "The way forward to a professional career" will wrap up the activities.
ATSAF and Tropentag conference will cover all travel costs (low emission transportation means are strongly suggested), accommodation, and registration fee for the conference. Furthermore, every student reporter will receive a flat rate compensation of expenses of 100 Euro.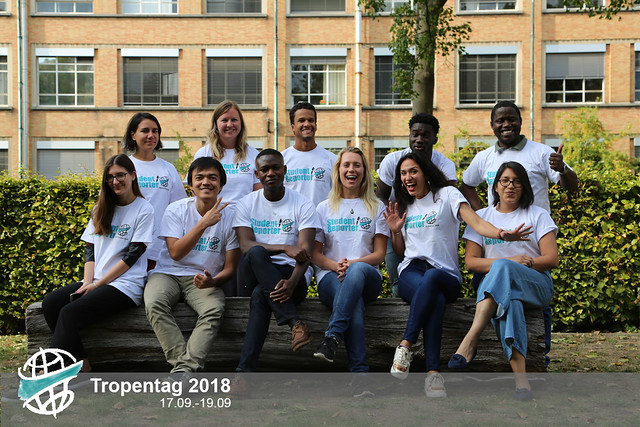 Who can apply?
The application is open to students affiliated to a European university with great interest in the Tropentag topic. Applicants should be fluent in English and have basic experience in interview and writing techniques and/or knowledge in the use of Web 2.0 social networks. If you are skilled in using visual or social media, writing for a wider public and/or digital photography or video recording, please also state this in your application.
Please apply with a short CV outlining your experience in the relevant fields and a motivation letter (maximum ½ page). Please indicate your skype account, your ResearchGate profile and your facebook or LinkedIn profile.
Please send your application in one (1) pdf file named 'your‐name‐studenreporter‐2022.pdf' to studentreporter(at)atsaf.de
Deadline for application is 4 July 2022.
Download the call for application: StudentReporters2022.pdf
---